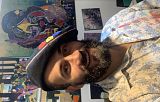 Condrache art
Târgu Mureș, Romania
More artworks by this artist
STYLE
Contemporary Art, Pop Art, Street Art
Condrache, loves to make his own art, painting for him is like a ray of sun on the petal of a flower, a relish and a discovery at the same time. She lives in Romania in a charming area full of history and splendid hills. Art generates happiness, and he always has colorful paintings displayed throughout the house and throughout the workshop. The color astonishes our soul and makes it vibrate until it harmonizes with our beautiful planet. A wide range of art and accessories are available for homes, hotels, offices, healthcare, real estate gifts and more. All pictures are available as fingerprints, congratulations, clothing, phone helmets, duvet covers, pillows, tote bags, towels, shower curtains and more ... I painted what I felt, not what I saw, I want to tell you the state you choose ...
Leave a comment
You must register or login
You must be logged in to like or follow. Please register or login to continue.