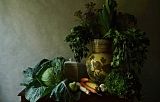 Claudia Stanetti
Kraków, Poland
More artworks by this artist
STYLE
Colourful, Fine Art
Title: "Still life with Ukrainian vase" Size: 75 cm/ 100 cm It was one of that silent, warm, summer day when man feel like the time is standing still, no movement, no noise, no chaos with a blue sky. It is one of the photography from series entitled: Meditations. (SOLD AS PRINT ONLY) Limited edition of 10 original prints, signed by the artist.
Leave a comment
You must register or login
You must be logged in to like or follow. Please register or login to continue.