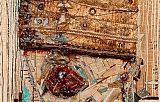 Claire Champagne
Gatineau, Canada
More artworks by this artist
Certificate of authenticity
Yes
Jesus. Collage de pierres précieuses. Couronne fabriqué avec des cures dents. Peinture acrylique et epoxy . God is my salivation I will trust and not be afraid.
Leave a comment
You must register or login
You must be logged in to like or follow. Please register or login to continue.