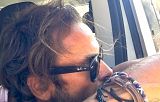 Christos Chadilas
Athens, Greece
More artworks by this artist
STYLE
Expressionism, Figurative, Surrealism
Certificate of authenticity
Yes
An artwork about the happy and the gratitude of living..Life is so sweet even if it's at the end of a journey..This old woman is an inspiration to our daily funny problems.It seems to be melancholic but she is not..She travels through her own paths of the past and remembers only her good stories.With a sweet feeling in her mouth.An unforgettable taste .And she wants to live another more year...she dreams to live again and again!So precious time to have a birthday time.
Leave a comment
You must register or login
You must be logged in to like or follow. Please register or login to continue.