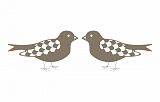 Christine Grenier
Saint-Jean-de-Brébeuf, Canada
More artworks by this artist
CATEGORY
Textile and Fiber Art
STYLE
Appliqué, Embroidery, Sewing, Dyeing
Entre réalité et imagination, le voisinage se fait aller le clapet. Pièce d'art textile avec tissus teints à la main, peinture, fibres diverses, broderie à la main et piquage machine.
Leave a comment
You must register or login
You must be logged in to like or follow. Please register or login to continue.