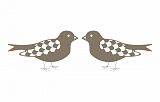 Christine Grenier
Saint-Jean-de-Brébeuf, Canada
More artworks by this artist
CATEGORY
Textile and Fiber Art
STYLE
Appliqué, Patchwork, Quilting, Sewing
Quand on se promène dans ma région natale, ce sont les paysages qu'on voit. Des vallons qui forment une courtepointe de carreaux à travers lesquels sont parsemées quelques maisons. Kinnear's Mills nous permet de voir ces magnifiques courtepointes naturelles comme celle-ci qui est une vue du 3e rang. Outre les carreaux, le piquage est en main libre et tous les tissus sont 100% coton ainsi que l'entre-doublure. Manchon à l'arrière pour la suspension.
Leave a comment
You must register or login
You must be logged in to like or follow. Please register or login to continue.