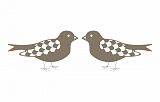 Christine Grenier
Saint-Jean-de-Brébeuf, Canada
More artworks by this artist
CATEGORY
Textile and Fiber Art
STYLE
Appliqué, Patchwork, Embroidery, Sewing, Mixed Media, Dyeing
Dans une forêt enchantée, quelques amis font une partie de cache-cache. À travers les fleurs ruches, les boules de gomme et les pas oranges, tout un monde magique prend forme. On se laisse raconter une histoire empreinte de fantaisie où lièvres et écureuil s'amusent à qui mieux mieux. Techniques: Appliqués, teinture, peinture, broderie main, broderie machine, piquage machine. Matériaux: tissus et fibres variés entre-doublure coton Accrochage: la pièce est munie d'une coulisse à l'arrière pour glisser une tringle.
Leave a comment
You must register or login
You must be logged in to like or follow. Please register or login to continue.