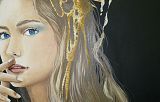 Chantal Duplessis
Granby, Canada
More artworks by this artist
Certificate of authenticity
Yes
J'ai fait cette toile parce que la lune à beaucoup de pouvoir sur nous surtout quand elle est pleine, et avec le grand duc qui est le conseillé disait les légendes, aucun mensonges se faisait entendre à ces cotée.
Leave a comment
You must register or login
You must be logged in to like or follow. Please register or login to continue.