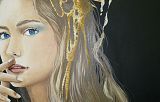 Chantal Duplessis
Granby, Canada
More artworks by this artist
Certificate of authenticity
Yes
Comme vous pouvez le voir ces papillons ont pleine confiance en elle ,j'ai fait ce tableau pour montrer la délicatesse de cette femme qui donne la sécurité à ces petits être fragile. Voyez son regard. Les yeux c'est le regard de l 'âme.
Leave a comment
You must register or login
You must be logged in to like or follow. Please register or login to continue.