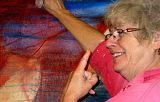 carmelle dorion
Saint-Sauveur, Canada
In Gallery
More artworks by this artist
MEDIUM
Acrylic, Mixed media
Acrylique mixte sur toile type galerie (ID. 0321) L' âme cherchant son chemin. L' être qui va naître, Attend son âme! Soul searching her way. The being to be borne. Waiting for the soul !
Leave a comment
You must register or login
You must be logged in to like or follow. Please register or login to continue.