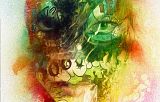 More artworks by this artist
STYLE
Colourful, Conceptual, Fine Art, Other styles
MEDIUM
Color, Digital, Others
Certificate of authenticity
Yes
Jazz up your walls and bring life to your physical and digital space with Bold and Psychedelic Pop Art from Erik Brede Photography. 100x80cm / 110x90cm Pigment Print on Hahnemühle FineArt Baryta. Unframed, Limited Edition of 5 + 1. A signed certificate of authenticity document, security seal and a signed label for self-signing is shipped to the buyer as soon as the artwork is delivered and accepted. Read more about how my art is signed at www.erikbrede.com. Unique 1/1 High Res NFTs available from https://www.enter.art/artist/brede71.
Leave a comment
You must register or login
You must be logged in to follow. Please register or login to continue.