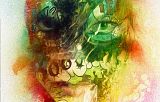 More artworks by this artist
STYLE
Abstract, Black and white, Conceptual, Fine Art
MEDIUM
Black & White, Digital
Certificate of authenticity
Yes
90x113cm / 100x123cm Pigment Print on Hahnemühle FineArt Baryta. Unframed, Single and Unique Edition of 1. Comes with signed CoA, CoA Security Seal and Signed label. If you have any questions or like to lease some of my artwork, please don't hesitate to contact me at contact@erikbrede.com or visit my official web site wwe.erikbrede.com for new art and great deals. I'm also offering interest-free instalments on purchase from my official site.
Leave a comment
You must register or login
You must be logged in to like or follow. Please register or login to continue.