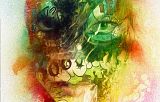 More artworks by this artist
STYLE
Black and white, Fine Art, Professional, Other styles
MEDIUM
Black & White, Digital, Others
Certificate of authenticity
Yes
The Kapellbrücke (literally, Chapel Bridge) is a covered wooden footbridge spanning the River Reuss diagonally in the city of Luzern in central Switzerland. Named after the nearby St. Peter's Chapel, the bridge is unique in containing a number of interior paintings dating back to the 17th century, although many of them were destroyed along with a larger part of the centuries-old bridge in a 1993 fire. Subsequently restored, the Kapellbrücke is the oldest wooden covered bridge in Europe, as well as the world's oldest surviving truss bridge. It serves as the city's symbol and as one of Switzerland's main tourist attractions. 80x45cm /84x49cm Pigment Print on Hahnemühle Fine Art Baryta, Limited Edition of 25 + 1AP, unframed and rolled in a tube. Available in sizes up to 210x118cm - Ready to hang.
Leave a comment
You must register or login
You must be logged in to like or follow. Please register or login to continue.