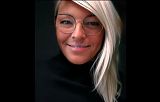 More artworks by this artist
STYLE
Contemporary Art, Modern
Certificate of authenticity
Yes
Toile projet en vue de la création du logo de la maison 2e étape. Offerte à la Maison D'Ariane de Saint-Jérôme. Maintenant associée à: l'Avenue d'Ariane. ???? Technique: Pointillisme.
Leave a comment
You must register or login
You must be logged in to follow. Please register or login to continue.