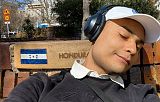 Aziel Barrientos
Tegucigalpa, Honduras
More artworks by this artist
A poor little child on the mercado's streets of the Tegucigalpa City, isn't so an inusual image, but when this poor boy is painting his dreams, he starts to imagine how to bring all that poor and ugly landscape that surrounds him, as he sells his art to pay his school, the corrupt politics pass through his way, ignoring him and hs dreams, that just he and the wind are witness of.
Leave a comment
You must register or login
You must be logged in to follow. Please register or login to continue.