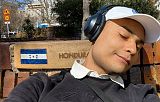 Aziel Barrientos
Tegucigalpa, Honduras
More artworks by this artist
Más que una pintura, es quizá un sueño. Uno muy extraño y partícular. Dónde el sol violeta, protagoniza el atardecer. Dónde la rojiza lluvia cae en el amarillento mineral que refleja en sus charcos, la estabilidad y harmonía del color. Pero es la mujer en su centro, la que adorna el paísaje con su figura. Ella dice ver el bello entorno; y su sombra nunca volvió a ser la misma.
Leave a comment
You must register or login
You must be logged in to like or follow. Please register or login to continue.