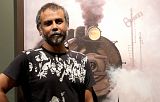 Kishore Pratim Biswas
Mumbai, India
More artworks by this artist
STYLE
Contemporary Art, Impressionism
Certificate of authenticity
Yes
That time, I was around 5 to 6 years old. I lived in a place where the locomotives travel around. And I was always running out to watch them and loved to sketch them. This was my old memory of childhood. I try to recall those memories and translate into the canvas. That is how the series of "NOSTALGIA OF INDIAN STEAM LOCOMOTIVES" comes up... Presently there is no Steam Locomotive around us. You might be seen in the museum or other places as an antic. My idea is to percent those locomotives to the old and new generation through this painting. It's a YOUR & MY Nostalgia… Just be with it...
Leave a comment
You must register or login
You must be logged in to like or follow. Please register or login to continue.