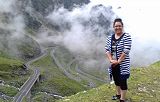 Bissinger Elena
Beiuș, Romania
More artworks by this artist
Certificate of authenticity
Yes
oil on canvas, size 120cmx200cm. It can be placed as you wish and on the height. Signed E. Bissinger 2022. Does not require a frame. Certificate of authenticity. It is sent only rolled in a tube.
Leave a comment
You must register or login
You must be logged in to follow. Please register or login to continue.