"EAT WEL" (BIEN MANGER) LES HUMEURS VAGABONDES DE P'TIT-LOUIS AUX MESSAGES VOLETANTS©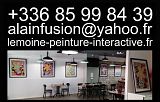 Alain Lemoine
Fontainebleau, France
More artworks by this artist
Certificate of authenticity
Yes
"EAT WEL" (BIEN MANGER) LES HUMEURS VAGABONDES DE P'TIT-LOUIS AUX MESSAGES VOLETANTS© « P'TIT-LOUIS » perché sur une ardoise, est le symbole de l'humanité déséquilibrée par le monde instable. P'TIT-LOUIS personnifie la gravité, la magnificence, la concorde et la paix, insufflant un idéal humaniste, comme un remède à la mélancolie. Le concept innovant est constitué de plusieurs ardoises aimantées que nous appliquons sur la surface magnétisée de l'œuvre, dans le but d'écrire nos émotions pour les confondre à l'œuvre interactive. Cette idée légalement protégée© montre que nous ne sommes plus de simples spectateurs face au travail de l'artiste et qu'Alain Lemoine n'est plus l'unique maître de son œuvre. P'TIT-LOUIS est couvert d'une étoffe composée de lignes et de points, comme des lignes unies par des points de concordance entre nos diversités culturelles, orientations sexuelles, religions et identités de genre. Une expérience artistique singulière qui alterne les émotions et offre des antidotes à l'ennui. "Contre l'indifférence, l'exclusion et l'injustice, peindre P'tit-Louis pour défendre l'autre, c'est pour moi un plaisir coupable". Tableaux (60x80cm) avec ardoises interactives aimantées: Peintures acryliques sur toile avec collages d'objets et papiers.
Leave a comment
You must register or login
You must be logged in to like or follow. Please register or login to continue.