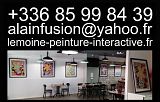 Alain Lemoine
Fontainebleau, France
More artworks by this artist
La peinture interactive ART-FUSION se compose de surfaces amovibles interchangeables les uns avec les autres. Elle change le visuel de l'œuvre par un mélange de plusieurs thèmes: ici autour de la gastronomie américaine, et dans un contexte graphique commun. Le travail consiste en des surfaces de même taille et disposés sur un support numéroté. Ce n'est pas un puzzle, son concept artistique a fait l'objet d'une protection juridique. "Mon tableau vit, et il ne revit que par celui qui s'amuse à le déconstruire": (1) FRITES, (2) BURGER, (3) CUPCAKE, (4) CITATION de Paul Bocuse "Il n'y a pas de bonne cuisine si au départ elle n'est pas faite par amitié pour celui ou celle à qui elle est destinée". Depuis plusieurs années, mon concept dérange les codes de la peinture contemporaine, ce n'est pas un puzzle. Je suis l'inventeur de la technique artistique appelée peinture interactive ART-FUSION qui a été légalement protégée. On peut aimer ou détester mais en-tout-cas il faut s'habituer, certes, à des œuvres peut ordinaires car si étranges. En fait ma peinture est inclassable, c'est ni réellement des tableaux faits de natures mortes, de paysages, de portraits ou de textes mais un amalgame de ses thèmes figuratifs ou abstraits qui se fusionnent autour d'un fond commun, c'est de l'ART-FUSION la peinture interactive qui transcende le rationnel.
Leave a comment
You must register or login
You must be logged in to like or follow. Please register or login to continue.