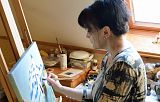 Aniko Hencz
Budapest, Hungary
More artworks by this artist
STYLE
Contemporary Art, Expressionism, Impressionism, Mixed Media, Modern
MEDIUM
Mixed media, Watercolor
Certificate of authenticity
Yes
Abstract autumn landscape with colorful trees in a motley forest. It is an original painting made with watercolor and black ink. It is painted on 240gr off-white artistic paper with slight pattern imprints on the surface. Please note, painting is being sold unmounted and unframed - framed photos are only for illustration purposes. The colors may slightly differ depending on your monitor settings. Please feel free to contact me if you have further questions.
Leave a comment
You must register or login
You must be logged in to like or follow. Please register or login to continue.