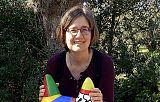 Anette Maeding
Arcidosso, Italy
More artworks by this artist
This painting express a period of positiv feelings, looking at the universe, the future to come with good and positiv feelings, on the left side the colours orange and green mean energy. The back of the woman stays fpr the will to forget the past and to face the future.
Leave a comment
You must register or login
You must be logged in to like or follow. Please register or login to continue.