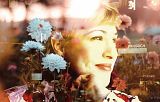 Andréa Lussier-Gagné
Repentigny, Canada
More artworks by this artist
Certificate of authenticity
Yes
Fait en l'honneur de Jeanne D'Arc,une héroïne qui a marqué l'histoire par son cœur au courage incommensurable, ses vertus de sacrifice et de justice ainsi que son amour et sa foi inébranlable en Dieu. Gloire à cette guerrière emplit de douceur et de compassion dont elle touchait les gens partout où ses pas l'on menée. Jusqu'à la fin elle sera restée fidèle à son cœur, à son idéal, à Dieu.
Leave a comment
You must register or login
You must be logged in to like or follow. Please register or login to continue.