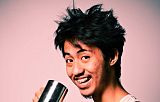 Aldrich Maligsa
Cebu City, Philippines
More artworks by this artist
STYLE
Contemporary Art, Freestanding (In the round)
This sculpture talks about commercialism and how it wastes resources. People are always so intrigued by new and fancier things...even when they're basically just the same thing. These unsatisfied 'lust' leads to plethoras of waste and garbage. The use of copper as the material for this sculpture defines this example: that even the most expensive things can still be considered as trash.
Leave a comment
You must register or login
You must be logged in to like or follow. Please register or login to continue.