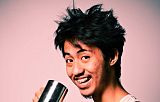 Aldrich Maligsa
Cebu City, Philippines
More artworks by this artist
STYLE
Assembage, Contemporary Art
This artwork talks about the current Philippine government and how it adheres - but not limited to - extrajudicial killings. It has been shown in several news stories that the victims of these horrific incidents are wrapped with tape with a sign that signifies that he/she is a drug user/pusher. There are several, more humane ways to fight the fight against drugs and I think that the method we're currently using is the most flawed of it all.
Leave a comment
You must register or login
You must be logged in to like or follow. Please register or login to continue.