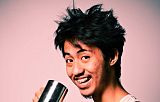 Aldrich Maligsa
Cebu City, Philippines
More artworks by this artist
STYLE
Freestanding (In the round), Other styles
MEDIUM
Fiberglass, Wood, Others
You have a rare condition? A contagious disease? A small boo-boo? Well worry no more, the government's health benefits is here! This is the government's band-aid solution to this, and more! Call now!
Leave a comment
You must register or login
You must be logged in to like or follow. Please register or login to continue.