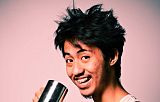 Aldrich Maligsa
Cebu City, Philippines
More artworks by this artist
STYLE
Assembage, Contemporary Art
MEDIUM
Plastic, Recycled items, Others
"Art is not made to decorate rooms. It is an offensive weapon in the defense against the enemy." -Pablo Picasso The tyrants wallow in the bay of blood by those who oppose their sentiments. No to extrajudicial killings!
Leave a comment
You must register or login
You must be logged in to like or follow. Please register or login to continue.