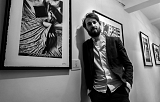 Alex Manchev
Saint Petersburg, Russia
More artworks by this artist
Certificate of authenticity
Yes
Paper print of artistic nude photography. Pigmented photographic print, 100+ years of image permanence, on 100% cotton based aquarelle board, 640 gsm, 4 deckle edges, hand-coated with Ilford Creative Emulsion, for ultimate image reproduction. The photograph is framed with a black wooden frame called: "floating frame". An there is a white border of 5cm. You will also receive a certificate of authenticity signed by the author with the number of your edition.
Leave a comment
You must register or login
You must be logged in to follow. Please register or login to continue.