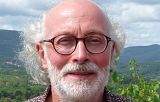 Alain HALTER
Aubervilliers, France
More artworks by this artist
Certificate of authenticity
Yes
"Fenêtre" ©alainhalter 1979. Gouache et encre de chine sur papier Velin d'Arches grain torchon. Année : 1979. Format : 22 (largeur) x 26,3 (hauteur) cm. Hors encadrement. Pièce unique. Encadrement sur demande avec devis.
Leave a comment
You must register or login
You must be logged in to follow. Please register or login to continue.