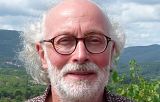 Alain HALTER
Aubervilliers, France
More artworks by this artist
Certificate of authenticity
Yes
"Chat multicolore" ©alainhalter 2022. Collage de papiers découpés à partir de tirages d'art. Année : Aubervilliers, 07/04/2022. Format A4 : 21 (largeur) x 29,7 (hauteur) cm. Encadrement sous-verre avec baguette PVC noir. Pièce unique.
Leave a comment
You must register or login
You must be logged in to follow. Please register or login to continue.