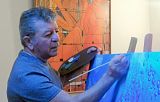 Alain FAURE
Beaucaire, France
More artworks by this artist
Certificate of authenticity
Yes
V'LA L'PRINTEMPS Acrylique sur Toile : 61 x 50 Le printemps est en avance pointant le bout de son nez un peu partout en France, dès le mois de février. C'est avant tout l'occasion d'immortaliser cette douce lumière qui nous aide à oublier l'hiver, parfait alibi pour sortir prendre l'air, se balader dans la campagne environnante. Saison du renouveau et de la douceur, c'est l'heure pour les arbres de bourgeonner et de laisser leurs fleurs se colorer !
Leave a comment
You must register or login
You must be logged in to like or follow. Please register or login to continue.