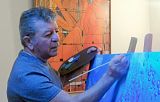 Alain FAURE
Beaucaire, France
More artworks by this artist
Certificate of authenticity
Yes
PONT DU GARD Acrylique sur Toile : 80 x 60 C'est un rendez-vous avec l'histoire, mais aussi avec la beauté architecturale dans le cadre magnifique de la vallée du Gardon. La couleur de la pierre amplifie l'étonnante harmonie de cet ouvrage d'art avec son environnement et pour s'en convaincre, il suffit de naviguer en canoë ou de se baigner à ses pieds. Ce monument majeur de la présence romaine alimentait en eau la ville de Nîmes depuis Uzès il y a 2000 ans.
Leave a comment
You must register or login
You must be logged in to like or follow. Please register or login to continue.