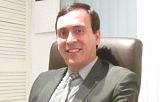 Adolfo Constenla
San José, Costa Rica
More artworks by this artist
Ox carts are part of Costa Rica´s folklore. They served during the 19th and first half of 20th century as transportation for prodcuts as coffee and bananas, main products of exportation at that time. The ox carts are painted with different colors and forms. You will not see two of a kind. Each piece will be different. Today you can buy one, in parts, to use it like a beautiful artcraft as a bar and inside, you put your liquours or whatever you want.
Leave a comment
You must register or login
You must be logged in to like or follow. Please register or login to continue.