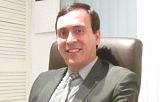 Adolfo Constenla
San José, Costa Rica
More artworks by this artist
Costa Rica has many volvcanoes. This is one very well known by tourists, from abroad and from the country. It is Arenal Volcano. It has perfect cone shape and it was active a few years ago, but it does not make any damages to the nearest villages. It has an artificial lake near, that supplies energy for the people.
Leave a comment
You must register or login
You must be logged in to like or follow. Please register or login to continue.