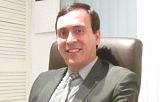 Adolfo Constenla
San José, Costa Rica
More artworks by this artist
Scene from a boat crossing the Sierpe River Wetlands in the southern part of Costa Rica. At the horizon you can see a torquoise spot that is one of the highest mountain range of the country, " Talamanca´s mountain range". It is a surreal digital art, cause during the crossing of the swamps and rivers you can feel transported to an unreal place.
Leave a comment
You must register or login
You must be logged in to like or follow. Please register or login to continue.