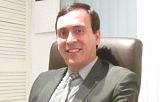 Adolfo Constenla
San José, Costa Rica
More artworks by this artist
This cactus is from the most northern Province of Costa Rica, the Province of Guanacaste. The plant has big thorns and some kind of fuit ( the red spots, attached to the plant). That fruit is called, in Spanish, " Pitaya" and is very sweet and has a lot of iron. I took the picture, and manipulated with digital apps, in Palo Verde National Park.
Leave a comment
You must register or login
You must be logged in to like or follow. Please register or login to continue.