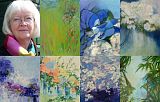 Aase Lind
Aalborg, Denmark
More artworks by this artist
Certificate of authenticity
Yes
A childhood memory from the summer days in Denmark with never-ending sunshine. As a matter of fact, I do not remember one single rainy day! :-) The gardens, the beaches were full of bright, happy colors.
Leave a comment
You must register or login
You must be logged in to like or follow. Please register or login to continue.