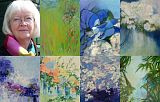 Aase Lind
Aalborg, Denmark
More artworks by this artist
STYLE
Contemporary Art, Figurative, Modern
Certificate of authenticity
Yes
A painting in the 'Theme of Flowers' Frequently, I return to work with florals, as it's very relaxing. d Here is a modern version of still life with florals with bright colors.
Leave a comment
You must register or login
You must be logged in to like or follow. Please register or login to continue.