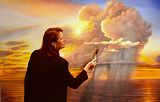 Julie Griffin
Fort Myers, United States
Plus d'oeuvres de cet artiste
Certificat d'authenticité
Oui
"It's about Time" In this piece, I weave together the classic nude figure with one the today's gadgets that some people can't part with. I wanted a timepiece that would also represent a stopwatch. I chose a TAG watch because at the time of conception, it was considered a quality watch made with classic craftsmanship the way I feel about the Academic painting. An i-watch, needs charging and the TAG is self-winding by the body's movements. Capturing a moment in time with the watch hands still on the TAG as the runner's hands are before the start of the race. You see it's all about time, the moment at start of our life when we are young, strong, ready and willing to rise to the challenge of life. Not the end of our lives where our bodies are tired and some will have won and some will have lost. Some will have found a way to finish and some will broken-down along the way. Others will have the victory stolen from them, or life will just have gotten in the way. It's about having the opportunity to start the race and be equal on the line with one another. The perspiration on the runner is subject to interpretation, it could be anxiety to make a move to soon or fear of not rising up to the occasion in time. I feel it's the warmed up persona that is well tuned and ready to tackle the task that is before him. I painted the runner to be fit and trim and well prepared for this race. The body is our temple and talking care of it is part of life's challenge so that we a fit to finish strong. So rise up to this task of running in this life we call the human race "It's about time". In the end when the body stops moving the TAG will also stop for both are intertwined. This painting is painted in the Academic style with a green/gray under painting, and all the colors are glazed over the under painting. This method gives the viewer the illusion of being in front row of the race. You will not be able to see the full illusion of this unless you are standing in front of the painting because the camera flattens the image. The camera sees with one lens (monocular) and we see with two lenses (binocular) so we can see depth. The light travels through the glazes and down to the under painting and refracting back to us with the information or illusion of depth.
Laissez un commentaire
Vous devez vous inscrire ou vous connecter
Vous devez être connecté pour suivre. Veuillez vous inscrire ou vous connecter pour continuer.
Message | Faites une offre