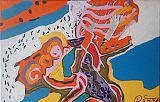 SAFAA BERRA
Casablanca, Maroc
More artworks by this artist
Certificate of authenticity
Yes
Volage, ou plutôt femme déchirée. Entre l'indifférence et l'oublie et la passion déraisonnable sans lendemain. Entre deux postures; l'une gaie joviale, robe de féminité colorée sur un fond blanc candide, brisée par l'indifférence. L'autre posture simple, découverte en violet de tristesse et d'humiliation. La quelle des deux posture triomphera? Sous ce nuage et tonnerre de colère à la fois humaine et divine! Va-t-elle céder à la fornication ou plutôt rassembler ses restes déchus pour se reconstituer et ne plus vivre déchirée et être entière pour sois. Volage illustre cet état d'âme à la fois confus et précis que peut vivre chaque femme la métaphore est tellement vaste qu'elle peut être projetée sur différents contextes de la vie où la femme doit faire un choix entre son bonheur de femme et sa dignité d'être humain.
Leave a comment
You must register or login
You must be logged in to like or follow. Please register or login to continue.