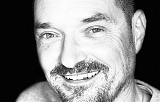 Philippe Martoglio
Beuvry-la-Forêt, France
More artworks by this artist
STYLE
Contemporary Art, Conceptual, Mixed Media
MEDIUM
Acrylic, Oil, Mixed media
Certificate of authenticity
Yes
Back to the origins, the oceans, cradle of humanity. Relief painting made with glue and acrylic paint on a wooden support. The edges of the table are colored and give a quality rendering and do not require framing the table. Painting signed and countersigned. Certificate of authenticity.
Leave a comment
You must register or login
You must be logged in to like or follow. Please register or login to continue.