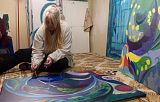 Magda Hoibian-Labonne
Loches, France
More artworks by this artist
"4 Eléments" est une oeuvre peinte dans la démarche de l'intuitive painting. Les 4 parties ont surgi comme les 4 éléments de la vie : Eau, terre, Air et Feu. C'est un tableau à la fois vibrant et paisible et travaillé en plusieurs couches de peinture. Il est réalisé aux acryliques. Les éléments végétaux de ce tableau se retrouvent dans toute une série de l'artiste dénotant son intérêt pour la vie et les modifications climatiques. La vie des espèces botaniques est une passion de Magda H.L. qui leur rend hommage dans son travail artistique. Les formes circulaires, arrondies sont une récurrence, comme une réminiscence dans son travail de plasticienne .
Leave a comment
You must register or login
You must be logged in to like or follow. Please register or login to continue.