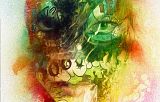 More artworks by this artist
STYLE
Colourful, Fine Art, Infrared, Panoramic
MEDIUM
Color, Digital, Others
Certificate of authenticity
Yes
Infrared photography from a lake in Norway. Full-spectrum modified Canon and IR642 filter. 160x90cm Direct UV-Print on Brushed Aluminium, Ready to hang. Available in different sizes from 80x45cm up to 210x118cm - see the official website for info. The price will increase as prints become unavailable. A signed certificate of authenticity document, security tamper and a signed label is shipped to the buyer as soon as the artwork is delivered and accepted.
Leave a comment
You must register or login
You must be logged in to like or follow. Please register or login to continue.