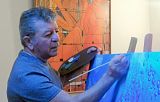 Alain FAURE
Beaucaire, France
More artworks by this artist
Certificate of authenticity
Yes
PÊCHE AU GROS Acrylique sur Toile : 92 x 65 Toujours à la recherche d'incroyables sensations, ils sont partis de bonne heure emportant avec eux un équipement sophistiqué. Dans ces îles tropicales où ils passent leurs plus belles vacances, ils auront l'embarras du choix pour pêcher une multitude d'espèces de thons, requins ou autres barracudas. Ils devront cependant être en pleine forme pour pratiquer ce véritable sport passion.
Leave a comment
You must register or login
You must be logged in to like or follow. Please register or login to continue.